RECOVER FASTER AND ELEVATE YOUR HEALTH
We are excited to be CORE cryotherapy and wellness' first satellite location! Our members and guests can receive CORE's quality service, cutting-edge technology, and nutrition conveniently located where they workout and train. CORE is an integral part in the Healthplex's overall plan to offer one place to reach all your fitness goals. CORE uses premium products tested and used by their medically-trained staff to ensure you are getting the best nutrition, supplements, and services out there. 
Whether you are a runner looking to continue to train for that marathon, a weight lifter or athlete looking to build muscle and recover faster, a gym-goer looking to lose weight or take your workouts to the next level, a physical therapy patient looking to recover faster from injury, or just generally want to feel better, CORE can help you reach that next step in your fitness journey.
CORE SERVICES OFFERED AT THE HEALTHPLEX
CORE NUTRITION 
Healthy shakes, teas, and grab-and-go items (all shakes are plant-based, gluten-free, and dairy-free). 
CORE CRYOTHERAPY AND WELLNESS
IV infusions- increase energy, improve sports performance, enhance immune support, relieve stress, hydrate, improve mental clarity and cognitive function, reduce migraines, improve asthma/immune health/anxiety, boost energy, improve symptoms of depression 
Injections- similar to IV infusions, but take less time/ last a shorter amount of time
Cryotherapy- burn 600-800 calories per session, increase your metabolism/energy/performance level, elevate your mood, relive insomnia, enhance blood flow, increase lymphatic system drainage, reduce inflammation, decrease muscle soreness/chronic pain/fatigue, detox fat cells
Normatec compression boots- increase blood flow/lymphatic drainage, reduce muscle soreness, relax your muscles to increase flexibility and range of motion, decrease recovery time, reduce swelling/inflammation/fluid accumulation, eliminate first-stage varicose veins, push necessary fluids back to the heart
Celluma LED treatments- anti-aging/acne therapy, pain/wound management for relieving arthritic/muscle/joint pain and stiffness
Food intolerance tests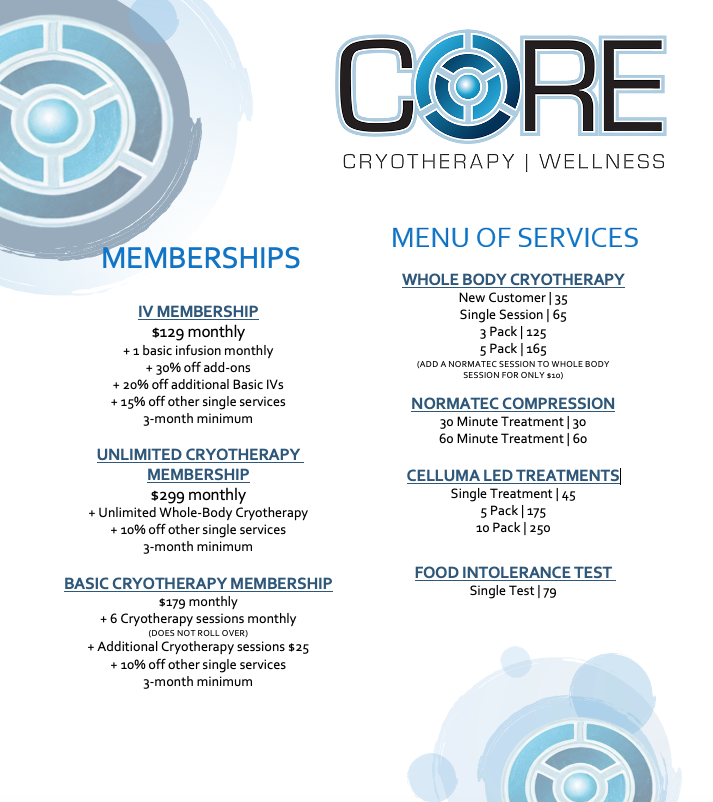 All Healthplex members get 10% off CORE memberships and 20% single services. 
CORE is open at our location M-F 10:00 a.m. - 7:00 p.m. and Sat 10:00 a.m. - 4:00 p.m. with a lunch hour from 1 p.m. - 2 p.m. You can call to make an appointment/consultation or stop by their spa located behind and to the left of our front desk.
Additional information:  CORE Services Explained | IV Infusion and Vitamin Options and How It Works | Injection and Vitamin Options | CORE Township Location Services 
For more information on CORE and their primary location, visit https://corecryotherapy.net/ or contact them at 601.749.6032.