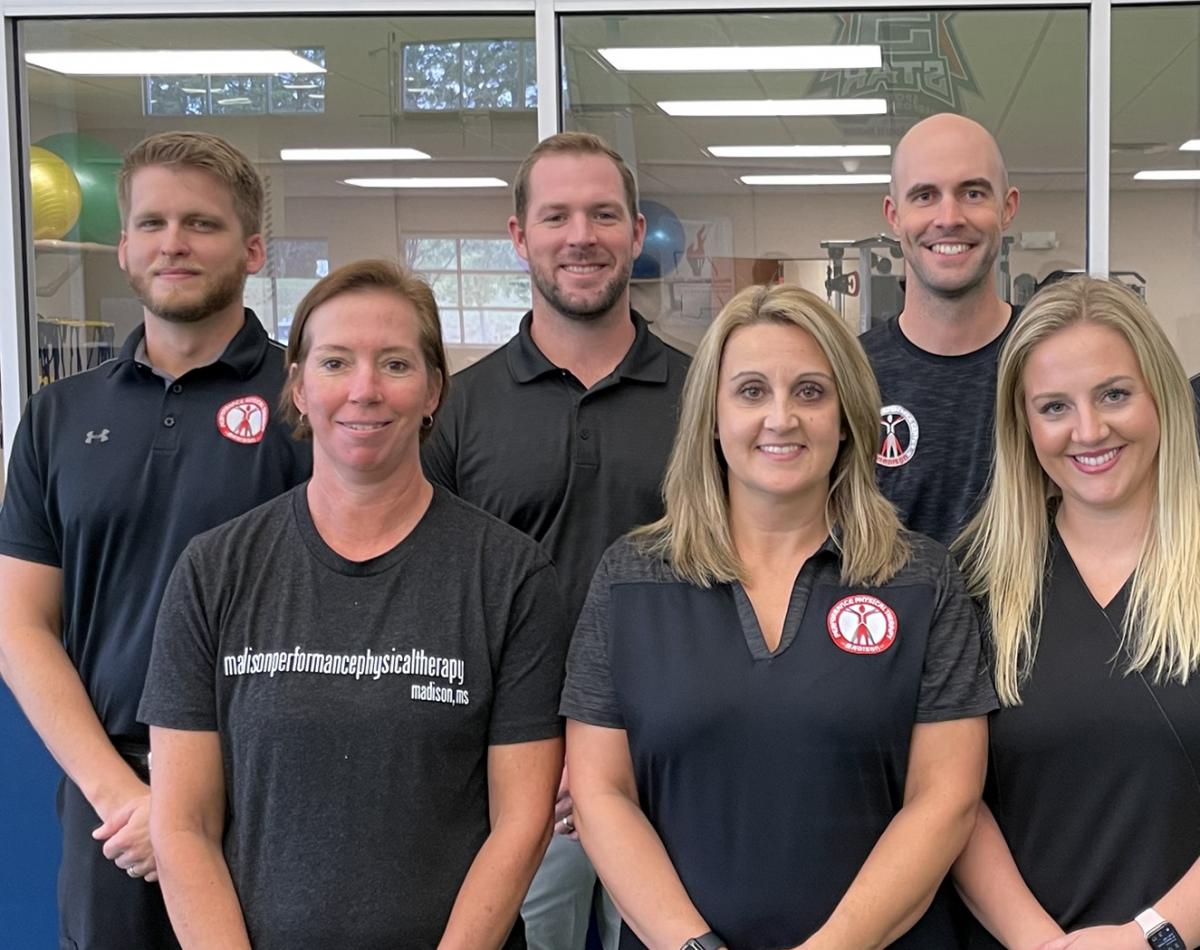 Our team of highly-trained physical therapist and support staff will help you recover from injury, so you can get back to what you love.  
West Hammond, PT, DPT, UDN-C- Clinic Director/ Physical Therapist 

West is a native of Winona, MS and graduated from Millsaps College where he majored in Biology with a minor in Chemistry. West was a member of the Millsaps Majors baseball team from 2012-2015 and competed in the 2013 Division Three College World Series. After graduating from Millsaps, West attended the University of Mississippi Medical Center where he received a Master's in Biomedical Sciences and a Doctorate in Physical Therapy. West is also a certified dry needling provider through United Dry Needling. West and his wife, Jessica, enjoy calling Madison home! 
Corbin May, MS, DPT- Assistant Director/ Physical Therapist 

Corbin is originally from Tupelo, MS and played golf at Mississippi State University as well as Copiah Lincoln CC. After graduating from MSU with a Bachelor's in Biochemistry, Corbin attended Mississippi College, earning his Master's in Biology. Corbin continued his education by attending the University of Mississippi Medical Center where he received his Doctorate in Physical Therapy. 

Corbin and his wife, Rosalynn, live in Madison. Rosalynn is a pediatric resident at UMMC Children's Hospital. Both are proud parents of their golden retriever, Trooper. 
Don Keeling, LPTA- Physical Therapist Assistant 

Don is a native of the Reservoir Brandon area and attended Mississippi College before spending 10 years working in the Information Technology.  A passion for helping people in a more meaningful way led him to the field of Physical Therapy.  He graduated from the PTA program at Hinds Community College and joined our staff in 2020.  Don lives in Madison with his wife and two children.

Josh Hardin, ATC

Josh Hardin has been a Certified Athletic Trainer since 2000. He is a graduate of the University of Mississippi with a degree in Biology.  Before joining our staff, he served as an outreach Athletic Trainer for Baptist Health Systems, Mississippi Sports Medicine and Orthopedic Center, and Germantown Baptist Hospital in Memphis.  Prior to entering outreach athletic training in a high school setting, he served and an Assistant Athletic Trainer at the University of Memphis and as the Head Athletic Trainer at Mississippi College. He is married to Megan and they have twin daughters, Sydney and Rylee.

Christina Parker, Office Manager

Christina received her bachelor's degree in Physiology from the University of Phoenix in 2009. She is the mother of 3 amazing boys, 2 of which she considers her very own heroes as they are currently serving in the Army as active duty service members. She enjoys spending time with her boys, hunting, fishing and working with her amazing physical therapist here at Madison Performance Therapy.
Madison Rademacher, PT Tech

Madi is a native of Madison, MS and graduated from Mississippi College where she majored in Biology with a minor in Kinesiology. She hopes to continue her education by attending the University of Mississippi Medical Center in the near future to get a degree in Physical Therapy, so she can help people the way the therapists at Madison Performance Physical Therapy do. Madi and her son enjoy calling Madison home.
Ashley McGivney, PT Tech

Ashley earned her Bachelor of Science in Fitness Management from Mississippi State University in 1998. After interning at local hospitals, she has worked in the health and physical therapy field for more than 24 years. Putting patients at ease with her great sense of humor, Ashley has worked with us for over eight years. In her spare time, she loves cheering on the Mississippi State Bulldogs and the New Orleans Saints, camping at state parks, and eating crawfish.