Group Fitness Schedule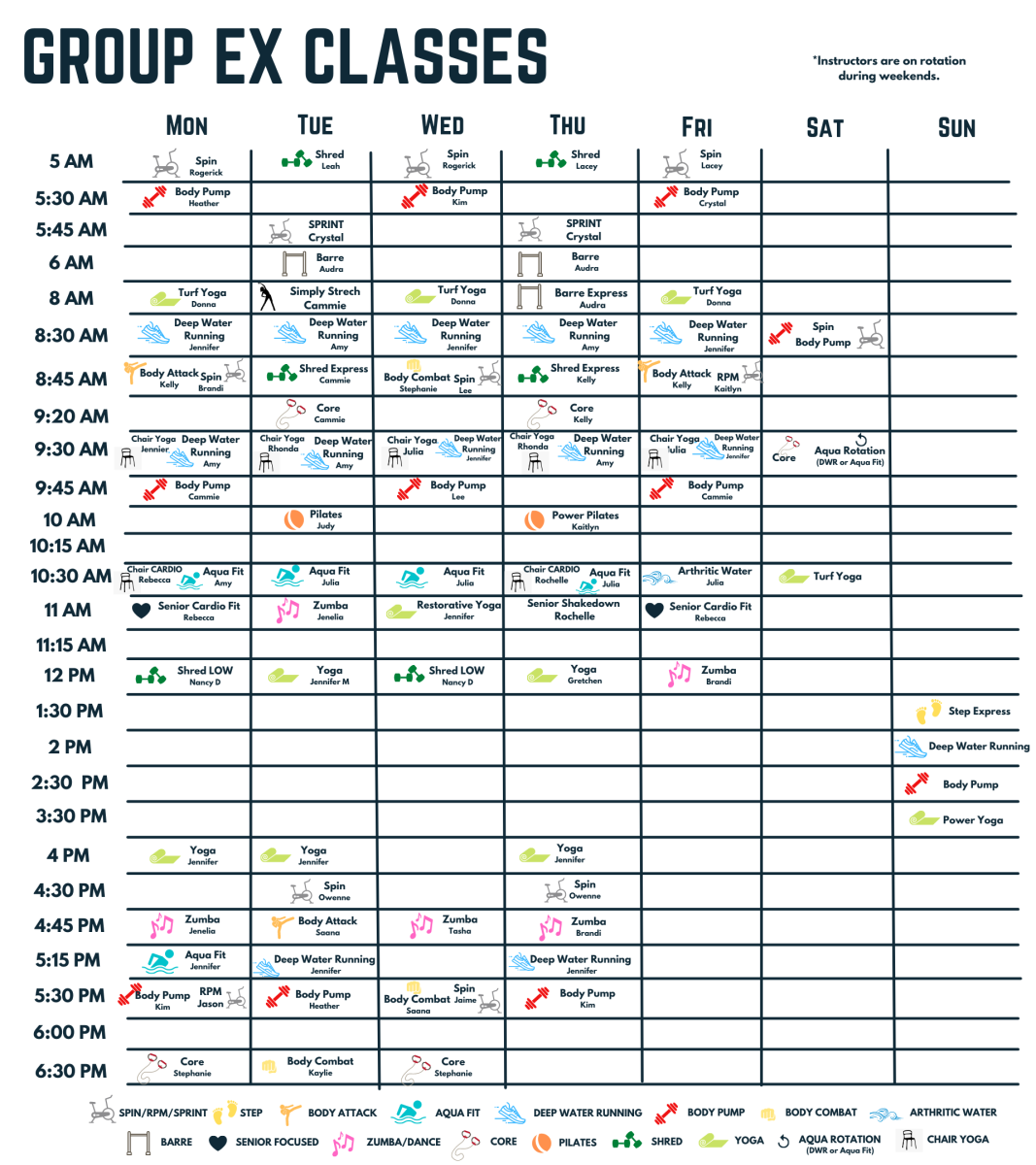 GROUP EX CLASS DESCRIPTIONS
STRENGTH
Our most popular class! Body Pump is a barbell workout for anyone looking to get lean, toned and fit – fast. Major muscle groups are worked through a series of compound and isolation-based exercises including squats, shoulder presses, and deadlifts. The focus is muscle endurance by moving light weights at high repetitions.
(Express- 45 minutes) (Full- 1 hour) * all fitness levels

Looking for a short, sharp workout that'll inspire you to the next level of fitness, while strengthening and toning your body? Core is for you! Core really hones in on the torso and sling muscles that connect your upper body to your lower body. It's ideal for tightening your tummy and butt, while also improving functional strength and assisting in injury prevention. Uses resistance bands and weighted plates.
(30 minutes) * all fitness levels, low impact, suitable for beginners
CARDIO
A high-energy martial arts-inspired workout that is totally non-contact. Punch and kick your way to fitness and burn loads of calories. No experience needed. Learn moves from Karate, Taekwondo, Boxing, and Muay Thai. Release stress and have a blast!
(45 minutes) *high impact

High-energy, sports-inspired cardio fun! This class combines athletic movements like running, lunging, and jumping with strength exercises such as push-ups and squats. Challenge your limits and leave with a sense of achievement!

(45 minutes) * all fitness levels

LES MILLS SPRINT is HIIT on a bike, a high-intensity workout that delivers rapid results. It's a short, intense style of training where the thrill and motivation comes from pushing physical and mental limits. 30 minutes

This class incorporates high-energy Latin and International music with unique dance moves and combinations. The routines feature aerobic and fitness interval training with fast and slow rhythms that tone and sculpt the body. Great for participants of all fitness levels.
(45 minutes) * all fitness levels
                 
Stepping up, over, and around an adjustable step to the beat of high-energy music gives you an excellent total-body workout good for burning fat, building muscle, and improving your fitness.
(45 minutes) * all fitness levels

Indoor cycling class for cardiovascular training. Instructors will guide participants through 5 workout phases: warm-up, steady uptempo cadences, sprints, climbs, and cool down. Participants control the bike resistance to make pedaling as easy or challenging as they choose. 
(45 minutes) * all fitness levels
CARDIO & STRENGTH
This class combines 5 different components of fitness: weights, cardio, mobility, agility and plyometrics. All this equates to a workout that will keep you moving, sweating, sculpting, and achieving all your fitness goals.

(Express- 30 minutes) (Full- 45 minutes) * high impact

 Low
A great option for seniors, beginners, or those recovering from injuries. No jumping or plyometrics. Define your muscles and increase strength and mobility using dumbbells, bands, and your own body weight. This 45-minute class emphasizes proper technique and keeps your heart rate at a cardio level throughout the entire workout.
(45 minutes) * low impact
SENIOR
Senior Shakedown
Dance-inspired cardiovascular fun for seniors that strengthens muscles and helps improve balance. You'll forget you are exercising!
(45 minutes) * low impact
This fun high-energy class is designed exclusively for older adults who want to improve their strength, flexibility, balance, and cardio endurance.
(45 minutes) * low impact
Chair Cardio

This class will elevate your heart rate, build upper body strength and mobility to increase blood flow.  You will use resistance bands, light hand weights, and hand grip balls to build strength in the entire body in this 30 minute class.
FLEXIBILITY & STRENGTH TRAINING
This class focuses on restorative Yoga. Class modifications are made to include beginner-advanced. This style of yoga is similar to Hatha/Vinyasa series. We focus on form and posture, mindful breathing, and a gentle introduction to many basic poses. Students leave class feeling longer, looser, and more relaxed.
(45 minutes) * all fitness levels  Power Yoga introduces a higher level of intensity
Simply Stretch
Created for individuals wanting to strengthen their core and improve flexibility and mobility through range of motion and deep stretching. Perfect for beginners.
(30 minutes) * all fitness levels

A classical Mat Pilates Class focusing on balance, stretching, and strengthening. Improves posture, mobility, and flexibility.
(45 minutes) * all fitness levels -Power Pilates introduces a higher level of intensity.

Chair Yoga

This class takes the gentle movements, mindful breathing, and basic poses of yoga and combines them with the stability of sitting in a chair or using a chair for supported movement. (45 minutes) all fitness levels
 
 
BARRE-less Barre
This class uses a combination of postures inspired by ballet and other disciplines like yoga and pilates. Participants focus on isometric strength training (holding your body still while you contract a specific set of muscles) combined with high reps of small range-of-motion movements. The class incorporates light handheld weights to bring the burn during all those reps.
(1 hour) * all fitness levels
AQUATICS 
Members of all fitness levels can benefit from this fun, high-intensity cardiovascular aqua workout in a virtually stress-free environment. This is the perfect class for those who love aerobics but need low-impact.
(45 minutes) * all fitness levels, great for beginners or those recovering from injury 

This class allows you to exercise without putting excess strain on your joints and muscles. The gentle activities in warm water, with guidance from a certified instructor, will help you gain strength and flexibility. Excellent for beginning or returning exercisers, and strengthening for pre-surgery and post-surgery.

(45 minutes) * all fitness levels, great for beginners or those recovering from injury 

This class utilizes varying types of lap and stationary movements for  cardiovascular training. Participants will also strengthen and tone during segments of the class by using noodles and water weights. We end class with relaxation and stretching.

(45 minutes) * all fitness levels, great for beginners or those recovering from injury